Current customers are the lifeblood of company stability and future growth – in fact, the majority of future revenues will come from that customer base and your company depends on their loyalty.
Business leaders and customer professionals are struggling to prioritize customer experience initiatives. It can be difficult to know exactly where to focus and what to do. The truth is, most companies don't invest in, or strategically manage, their existing customer base at a level anywhere close to the returns they're getting from that valuable asset.
There are, however, best practices for improving customer experience to boost the return on investment from these efforts. Check out the infographic below to learn the 7 secrets for increasing your customer experience ROI: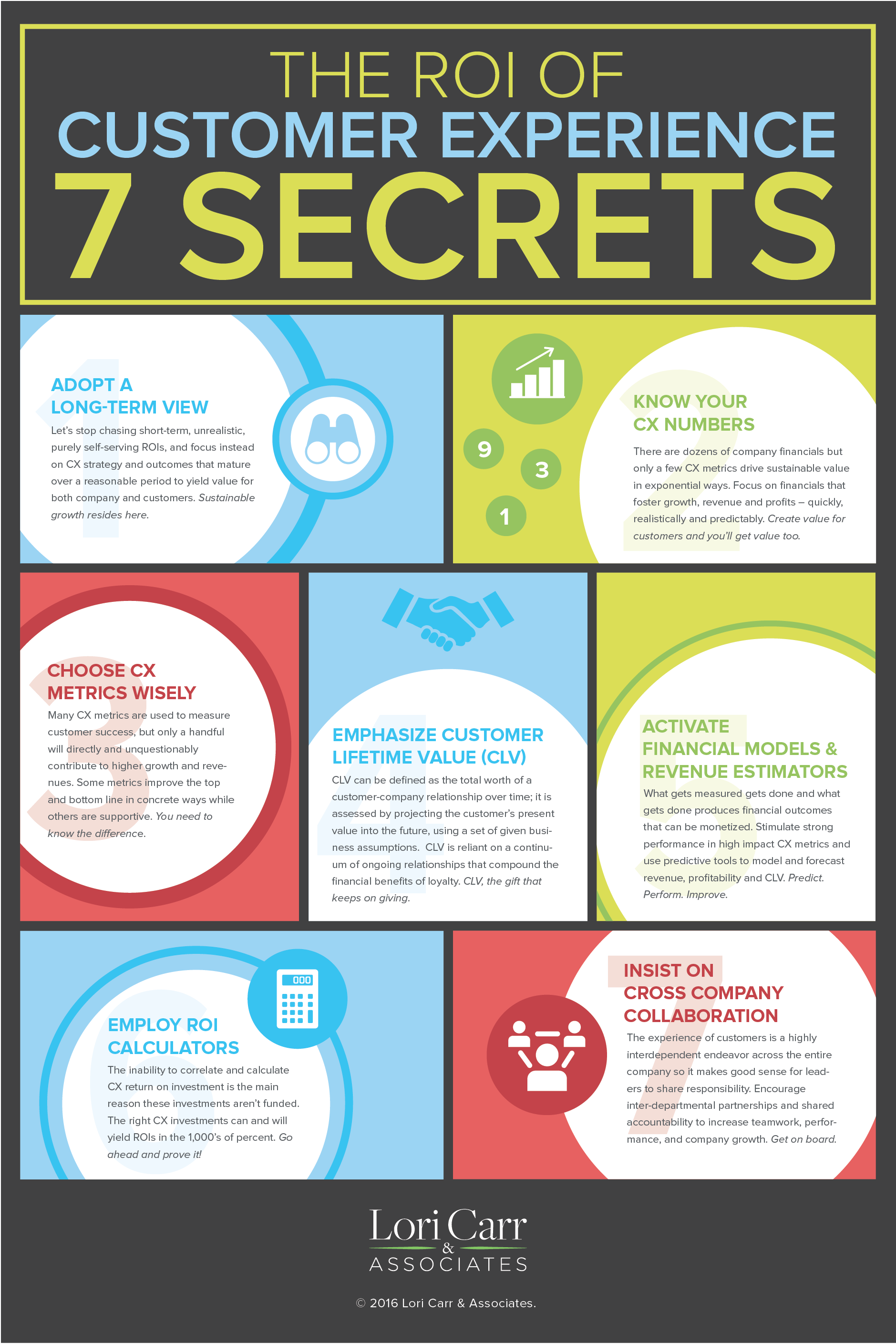 Share this Image On Your Site
Adopt a Long-Term View.

Let's stop chasing short-term, unrealistic, purely self-serving ROIs, and focus instead on CX strategy and outcomes that mature over a reasonable period to yield value for both company and customers.

 

Sustainable growth resides here.

Know Your CX Numbers.

There are dozens of company financials but only a few CX metrics drive sustainable value in exponential ways. Focus on financials that foster growth, revenue and profits – quickly, realistically and predictably

.

Create value for customers and you'll get value too.

Choose CX Metrics Wisely.

Many CX metrics are used to measure customer success, but only a handful will directly and unquestionably

contribute to higher growth and revenues. Some metrics improve the top and bottom line in concrete ways while others are supportive.  You need to know the difference.

Emphasize Customer Lifetime Value (CLV).

CLV can be defined as the total worth of a customer-company relationship over time; it is assessed by projecting the customer's present value into the future, using a set of given business assumptions.  CLV is reliant on a continuum of ongoing relationships that compound the financial benefits of loyalty. CLV, the gift that keeps on giving.

Activate Financial Models & Revenue Estimators.

What gets measured gets done and what gets done produces financial outcomes that can be monetized. Stimulate strong performance in high impact CX metrics and use predictive tools to model and forecast revenue, profitability and CLV.  Predict. Perform. Improve.

Employ ROI Calculators.

The inability to correlate and calculate CX return on investment is

the main reason these investments aren't funded.  The right CX investments can and will yield ROIs in the 1,000's of percent. Go ahead and prove it!

Insist on Cross Company Collaboration

.

The experience of customers is a highly interdependent endeavor across the entire company, so it makes good sense for leaders to share responsibility. Encourage inter-departmental partnerships and shared accountability to increase teamwork, performance and company growth.  Get on board.